Avoid a dental emergency this Christmas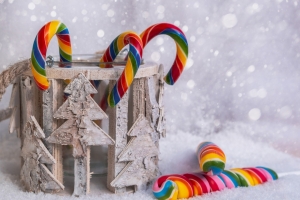 Posted on 10/12/20
Christmas is a time of treating yourself, over-indulging and relaxing but with so many risks to your smile during the festive season it's important to take a little extra care.
1. WRAPPING THE PRESENTS
Using your teeth on sticky tape is an easy way to cause damage to your teeth. Tearing the tape puts pressure on the edges of your teeth, making it easy for them to weaken or even crack or even dislodging a crown or a veneer. Always use scissors or a tape dispenser.
2. LIMITLESS SNACKING
Contrary to what you might expect, it's not the volume of sugar you consume that will damage your teeth, but the frequency that you eat it. Each time you eat something sugary, the bacteria in your mouth will produce acids that can cause tooth decay. So, if you find yourself grazing, your teeth will be consistently producing this acid and creating a higher risk of decay. A good excuse to polish off your sweet treats in one fell swoop.
3. TOFFEES AND CHEWY SWEETS
When you dip into the family-sized tub of sweets, choose wisely especially if you have had any kind of dental restorative work, such as fillings or veneers. Toffees can loosen or even remove fillings, crowns, bridges or veneer. Opt for a soft, melting chocolate or truffle instead.
4. ICE CUBES
Chewing on ice can create tooth fractures or even break teeth, particularly if you have any fillings or crowns. If you have sensitive teeth, you might want to steer clear of ice as it can be painful on the tooth surface. Pour your drink into a chilled glass instead.
5. DRINKING PROSECCO
Prosecco is one of the drinks that can do the most dental damage. Packed with acid, sugar and alcohol, prosecco can sit on the tooth's surface and cause damage to the enamel. To avoid this, enjoy prosecco in moderation, sip through a straw if you can, and try to limit the risk of erosion by drinking water in between each glass of fizz.
6. CRACKING NUTS & OPENING BOTTLES
In the same way that you shouldn't crack nuts with your teeth, opening bottles with them is also a terrible idea, but it's one that lots of people find themselves doing once the drinks are flowing. Opening bottles with your teeth has the potential to cause serious dental damage to both teeth and gums. You should avoid doing this at all costs.
7. USE A STRAW
Mulled wine and red wine are both bad news for teeth. They are both acidic and sugary, which means that it can erode teeth enamel, lead to lower levels of calcium and ultimately, weaken your teeth. In addition to this, dark wines like this contain tannins, which make the tooth enamel more porous, and more susceptible to staining. To avoid staining, try sipping through a straw.
8. EAT CHEESE
A nibble of cheese can counteract the harmful acids building up, so pull out the cheeseboard and tuck in to another slice of cheddar!