Teeth Whitening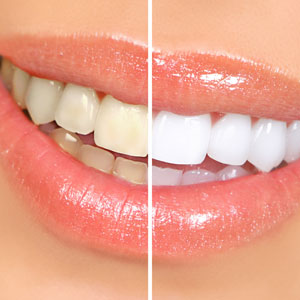 Discover a whiter, brighter smile!
Our whitening treatment gives superior results with a noticeable improvement in just a few days.
What are the benefits of whitening by a dentist?
Professional
Safe
Easy-to-Use
Convenient
Rapid results
Lasting whiteness
Choose your shade
Comfortable
Effective
How do I use the whitening treatment?
Our whitening system has been designed to fit in with your lifestyle. Your dentist will provide you with bespoke whitening trays to apply your whitening gel to. You can choose the day gel, which works with only 1 hour wear time per day. Alternatively, you can opt for night gel and whiten your teeth as you sleep.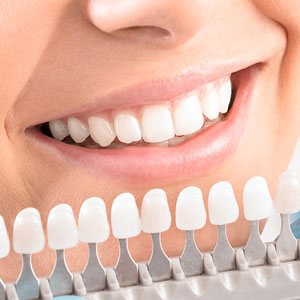 How white will my teeth go?
Everyone is unique, has different teeth shades and responds differently to whitening treatment. Your dentist will explain which gel will work best for you and what results can be realistically achieved.
How long will my teeth stay white?
Teeth whitening is not permanent, so the colour of your newly whitened teeth will slowly fade. To restore their shine simply apply our top-up gels. The duration between topping up your teeth whitening depends mainly on lifestyle choices. Most people require top-ups between 6 and 12 months. However, if you frequently drink red wine or black coffee and enjoy eating curry or if you smoke then it is more likely to be every 3 to 6 months.
How much does teeth whitening cost?
Your whitening treatment costs £299 payable at the time of booking. This includes a beautifully presented gift box containing your trays, instruction leaflet and 4 whitening gel syringes.
You can also buy Boutique BioMin toothpaste for £15 to calm sensitivity and prolong whitening.
Top-up gels are available to purchase from us at £20 per syringe pack or £50 for a set of 3 syringes.
Will I be suitable for whitening?
We won't begin whitening treatment if you have other dental issues that need to be addressed first. Your dentist will advise you of this in your suitability assessment. They may also recommend a hygiene appointment prior to using your whitening gel. Teeth whitening will only whiten the natural teeth. If you have dentures, white fillings, crowns or veneers, they will not whiten and may need replacing once you have reached your optimum colour.
Book your suitability assessment today
Can anyone have teeth whitening treatment?
No. We do not provide teeth whitening to people under the age of 18 years old or pregnant women.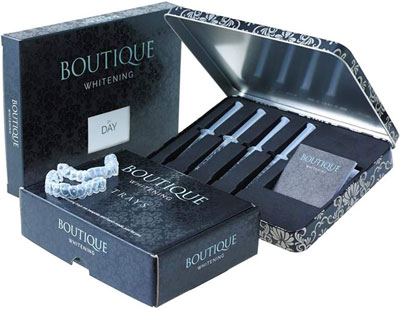 Which provider do you use?
At Ruabon Road we use the Boutique Whitening system because of its precision manufactured trays and unique engineered whitening gel properties:
High strength formula
pH neutral gels to protect the teeth
Integrated potassium nitrate to reduce sensitivity
High water content to keep teeth hydrated
Thicker gels to prevent saliva-washout