Dental Implants
Treatment costs
Single tooth implant - includes implant and crown £2550.00 dependant on treatment if a bone graft is required there would be a further charge of £281.00
Implant retained denture includes 2 implants, a upper conventional denture and a lower implant supported full denture around £4000.00
CT Scan - additional cost
Temporary replacement - leave a gap or provisional denture
Every patient is different and patient treatment plans may vary, please contact us for your free consultation to discuss your options.
0% finance is available for this treatment subject to credit check - find out more
Why choose us?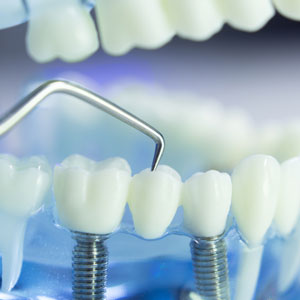 Having treatment with us will put you in the care of one of the UK's most highly regarded cosmetic dentists.
Liam McGrath has performed over 3,000 implants on more than 2,000 patients and is regularly enlisted to advise and train other dentists across the UK.
He is among the few practitioners to be awarded the acclaimed Diploma in Implant Dentistry from the Royal College of Surgeons, Edinburgh.
He also spent his early career travelling the globe to learn from the very best implant dentistry experts in the world.
Liam has since developed a customised Synergy Training Programme, which offers comprehensive training to other dentists in all aspect of restorative implant dentistry.
For more information on Dr McGrath please visit his website
Both Dr Dan C Naylor and Dr Will Hodgson carry out the restorative dentistry following on from Dr McGrath implant placements, both have completed post graduate training on restoration of implants, and have treated patients right here in Wrexham for over ten years.
Our methods are proven to provide long-lasting, reliable solutions which can transform lives and dramatically improve self-confidence.
Important information about choosing implants
Although implants offer a fantastic solution to missing teeth to complete your smile and help you eat, they are not the same as your natural teeth. It is essential to understand that not only are implants a financial investment but they are also a physical one. Therefore, when we place implants at Ruabon road, you will be required to agree to a continued course of monitoring and management which would involve three to six monthly visits to our hygiene team and yearly reviews with a dentist to make sure all is well. The survival rates for implants in healthy adult are generally good with over 95% at five years and estimates of almost 90% at ten years. Despite this they suggest that as many as 38.7% of fixed implant-supported prostheses suffered some type of biological or technical problem during an observation period over five years1
Frequently Asked Questions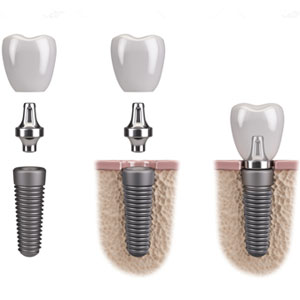 What are the benefits of dental implants?
Implants look and feel just like your own teeth
Implants preserve the integrity of facial structures
Better health and nutrition because you can eat what you want
Ease of cleansing
Enjoy your food
Eliminates the embarrassment of loose fitting dentures
Eliminates the pain of ill-fitting dentures
What is a dental implant?
A dental implant is an artificial substitute/replacement for the root portion of your natural tooth and is anchored into a pre-drilled socket in your jaw-bone to support a crown, bridge or secure a denture firmly in place. Implants are made from titanium, a material that is well tolerated by bone and integrates easily with bone tissue. During the placement of a dental implant, the goal is to achieve a close contact between the outer surface of the implant and the surrounding bone tissue so they can "fuse" together.
How is a dental implant placed?
You will require x-rays and, in some cases, a CT scan is needed to assess that bone quality. The implant procedure is carried out under local anaesthetic at the practice.
Once the implant has been placed, it is left to heal and integrate with the jawbone for between six weeks to six months, during this period, patients are given temporary teeth (bridges) or they continue to wear their dentures.