Ruabon Road Dental Practice, Wrexham
Much has changed here since we first opened the iconic red door of number 96 Ruabon Road back in 1979.
We have established ourselves as the largest dental practice in the Wrexham area with nine modern treatment suites and an on-site dental laboratory. Despite our success, we remain an independent, family-friendly practice and warmly welcome patients old and new.
Our practice is a pleasant and safe space designed to make you feel at ease through every step of your visit.
We provide respectful dental care which is responsive to your preferences and needs, ensuring that your values guide our clinical decisions.
The Ruabon Road Dental Experience offers:
All-round general dentistry for both NHS and Private patients
Affordable cosmetic dentistry including implants, orthodontics, digital dentistry and facial aesthetics
Exceptional standards of health and safety and risk prevention
State-of-the-art contemporary treatment suites
Experienced dental team with special interests in every field
Advanced technologies such as intra-oral scanning and newest techniques
Focus on preventive oral care
Virtual dental examinations and online consultations
Over 40 years serving the communities of North Wales, Cheshire & Shropshire
Treatment guarantees
We are committed to keeping up to date with the progression of dentistry and are passionate about the continuous learning and professional development of our team so that we may pass on all the benefits to our patients. Keep checking news for informative articles and helpful advice as well as the latest updates about our practice, patients and community.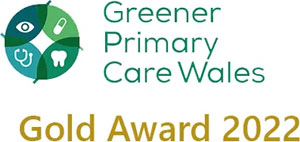 We are members of the Greener Primary Care Framework and Award Scheme, actively taking steps to reduce our carbon footprint. We aim to enhance the health of our practice population and offer sustainable choices in how we operate and the services we offer to our patients.