Facial Aesthetics
Wrinkle Reducers
1 Area - £150
2 Areas - £200
3 Areas - £250
Dermal Fillers
0.5ml Syringe - £150
1ml Syringes - £275
At Ruabon Road we want to give a boost to your confidence and our team doesn't stop at giving you a perfect smile; our goal is to make you feel unique as we are able to offer facial aesthetics in addition to dentistry in a safe and friendly environment.
Facial aesthetics treatments such as wrinkle reducers and dermal fillers are designed as non-surgical methods to refresh your skin, providing you with a long-lasting result.
As we age, unwanted wrinkles, folds and lines tend to show up on our face. Factors like too much sun, pollution, bad habits such as smoking and drinking alcohol, not drinking enough water to hydrate your skin, or the natural aging process will leave marks on our skin. But modern facial aesthetics is here to help!
Our highly experienced clinicians will carry an initial consultation where they can explain the most beneficial treatment for you. For example:
Wrinkle reducers are widely used to reduce fine line on your forehead, frown lines, wrinkles around your eyes and mouth but it can also be used to enhance your eyebrows and to combat pockets around the eyes. Botulinum type A toxin is injected into your skin to block nerve impulses and relax your muscle which will lessen the appearance of these lines and wrinkles. It is an affordable, pain-free treatment that can be done in your lunch break.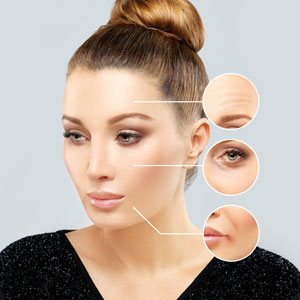 Dermal Fillers are used to replace lost hyaluronic acid, which is naturally found throughout our body: in our skin, joints, bones and eyes. As we age our body produces less hyaluronic acid, therefore our face loses its volume and youthful appearance. The hyaluronic acid works as a moisturiser and lubricant due to its capacity to store water. This is an excellent treatment too, for deep lines and wrinkles but also extremely popular for lips and cheek enhancement. Depending on the injection technique, skin type and your lifestyle, the results can last between six to 18 months until they start to fade away and a repeat session is required.
Facial aesthetic treatments are extremely safe and have been carried out in UK and around the world for many years with very few serious or lasting side effects. Most common adverse effects are redness around the area, bruising or swelling, but these effects will disappear within few hours and you can return to your normal daily lifestyle straight after the treatment.
If you are interested in a non-surgical cosmetic treatment or if you would like to find out more information, please give us a call 01978 364390 to book a free of charge initial consultation.