How to Avoid a Broken Tooth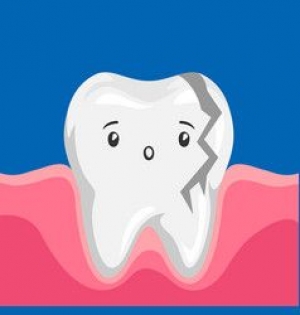 Posted on 27/04/20
It is not the ideal time to have emergency dental treatment so here are some tips on avoiding getting broken teeth through Lockdown.
There are 3 main causes of broken teeth:-
1. Acid Erosion where acidic and sugary foods and drinks erode enamel and eat away at teeth. Acid reflux also exposes teeth to harmful stomach acid. This degrades tooth structure and causes cavities. Help minimise damage by following proper dental hygiene and limiting corrosive food and drinks.
2. Grinding your teeth through stress, anxiety and sleep apnea can wear down teeth over time. Malocclusion (uneven tooth alignment) places uneven chewing pressure on teeth, eventually causing them to crack. Find useful calming techniques to avoid stressful clenching. If you find you can't avoid grinding your teeth, talk to us about treatment options.
3. Excessive Force from chewing on hard foods or objects can break a tooth. Also impact from sport or accidents can cause significant damage, even knocking teeth out completely. Always wear a mouthguard for sport and don't use your teeth as tools.
Stay safe and be sure to look after your teeth.